Veridas, the leading Spanish company in voice recognition biometric technology, will be present at the Mobile World Congress taking place in Barcelona this week. The company will have a stand-demo where the more than 30,000 attendees at the congress will test the effectiveness of the different biometric identification technologies the company develops in their own devices, such as voice authentication in 3 seconds with an accuracy of 99.9% or facial verification. Furthermore, during its participation in the MWC, the company will make several live broadcasts demonstrating the use of these technologies through social media.
Within the Mobile World Congress framework, Veridas will showcase different applications of its technology like integrating voice biometrics in mobile applications to provide proof of life remotely or its use in the security and alarms sector, where voice biometrics is allowing identification in contact centers. For customers, these biometric voice identification technology applications mark a significant improvement in user experience by eliminating passwords, codes, and other unreliable verification procedures. For companies, the identification of each user in 3 seconds allows optimizing the time and costs of contact centers. Entities such as Deutsche Telekom, BBVA, and Prosegur already rely on these voice biometrics solutions developed by Veridas.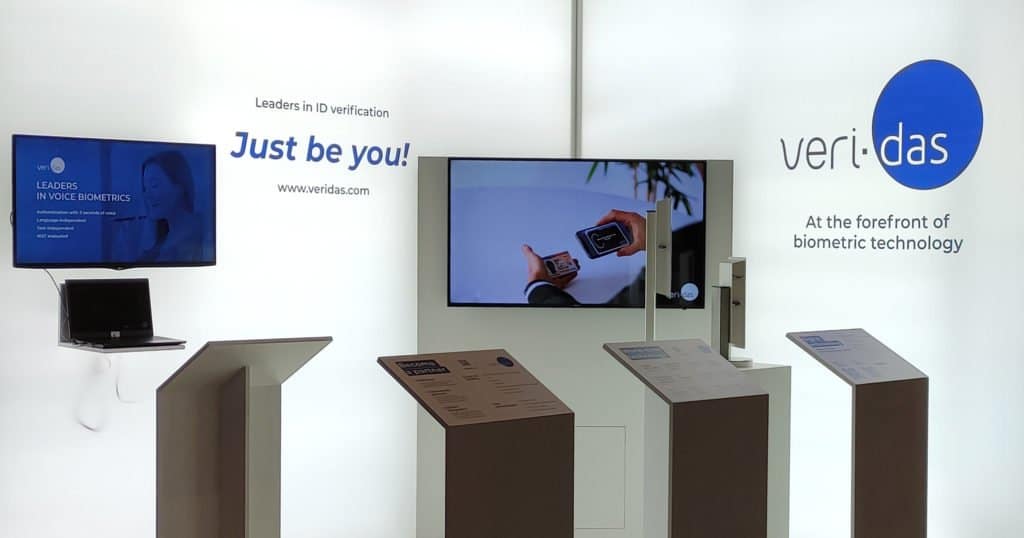 Similarly, attendees at the Mobile World Congress will be able to experience the digital onboarding experience developed by Veridas, which, among others, is already used in the best-ranked banking app in the world (BBVA), according to Forrester Research. In addition, the pilot access control tested in the soccer stadium of Club Atlético Osasuna during this past season will also be available for people to try. Veridas team will be composed by main executives, including Eduardo Azanza, CEO of Veridas, Ignacio del Castillo (Partnerships & Alliances Director), Esteban Morrás (Sales Director), Miguel Zarraluqui (Voice Biometrics Product Manager), Belén Aliño (Sales Manager), Javier López (dasGate Manager) and Eduardo Gozalo (Marketing Manager). «Biometrics and Artificial Intelligence form a binomial that guarantees the identities of all citizens in the face of the challenges, opportunities, and dangers that we are already experiencing from the digital transformation» said Azanza, who is part of the group of experts leading the regulation of biometric technology in Spain. He has also participated in the «Study paper on adopting a regulation of new technological, disruptive and social realities» framed in the Committee on Economic Affairs and Digital Transformation in the Spanish Senate. The Navarre-based company has raised the accuracy of its technology to 99.9%, minimizing recognition time and even detecting fraud in pre-recorded voice fragments in a commitment to the fight against identity fraud, which positions it at the forefront of its sector.
Technology endorsed in the United States
Veridas is among the world's leading companies in facial verification and voice recognition. The independent institution of reference in biometrics in the United States, NIST (National Institute of Standards and Technology), endorses and certifies the effectiveness of its technology through periodic evaluations.
Veridas is a leading global company specializing in developing digital identity verification technologies through facial and voice recognition. Founded in 2017 as a joint venture between BBVA and das-Nano, it has a team of more than 130 people, primarily Spanish engineers. Veridas produces technology globally for more than 50 customers worldwide, supporting use cases in Financial Services, Telecommunications, Shared Economy, E-Commerce, and Gaming.