After 13 challengesrelated to cybersecurity and IT, 3 hours, and 10 opponents, Daniel Díez Tainta, Security engineer at Packlink, has won the 1st Challenge CTF – Veridas with a check, courtesy of the sponsor Laboral Kutxa, of 1.000€.
"Thanks to Veridas and Laboral Kutxa for having the initiative to organize an event of this theme in Navarra; it is difficult to find events related to cybersecurity in the surrounding area." Daniel Díez Tainta, winner of the 1st CTF – Veridas Challenge.

1st Cybersecurity CTF Challenge - Veridas
Prepared and deployed by the Veridas cybersecurity team, the Cybersecurity CTF Challenge was born with a series of technical challenges related to cybersecurity and IT. Challenges related to web vulnerabilities, cryptography, programming, or steganography, among others.
The 10 participants, individually and only requiring a computer with a Linux operating system, have carried out 13 challenges in a period of 3 hours, in their desired order and receiving points for their fulfilment, depending on the complexity. 
Daniel Díez Tainta, Security engineer at Packlink, was the participant who obtained the highest score. "It has been really exciting and a very good experience. I would also like to thank all the people who participated." Daniel Díez Tainta, winner of the 1st Challenge CTF – Veridas.
Forum & Developers Challenge Navarra of Digital Security
The 1st Cybersecurity CTF Challenge – Veridas took place within the Forum & Developers Challenge of Navarra; an event promoted by ATANA, which seeks to raise awareness among SMEs and micro-SMEs in Navarra about the importance of having cybersecurity tools while recognizing and making visible the critical work of the technicians who deal with the security of institutions and companies.
This first edition was held at the headquarters of the Confederación Empresarial Navarra (CEN). It included fascinating presentations from companies related to cybersecurity, including INCIBE, Veridas, Turing Tech, DISCOM, TARLOGIC, and LARRABY, as well as from other companies which are increasing their interest in digital solutions, including Laboral Kutxa and Euskaltel.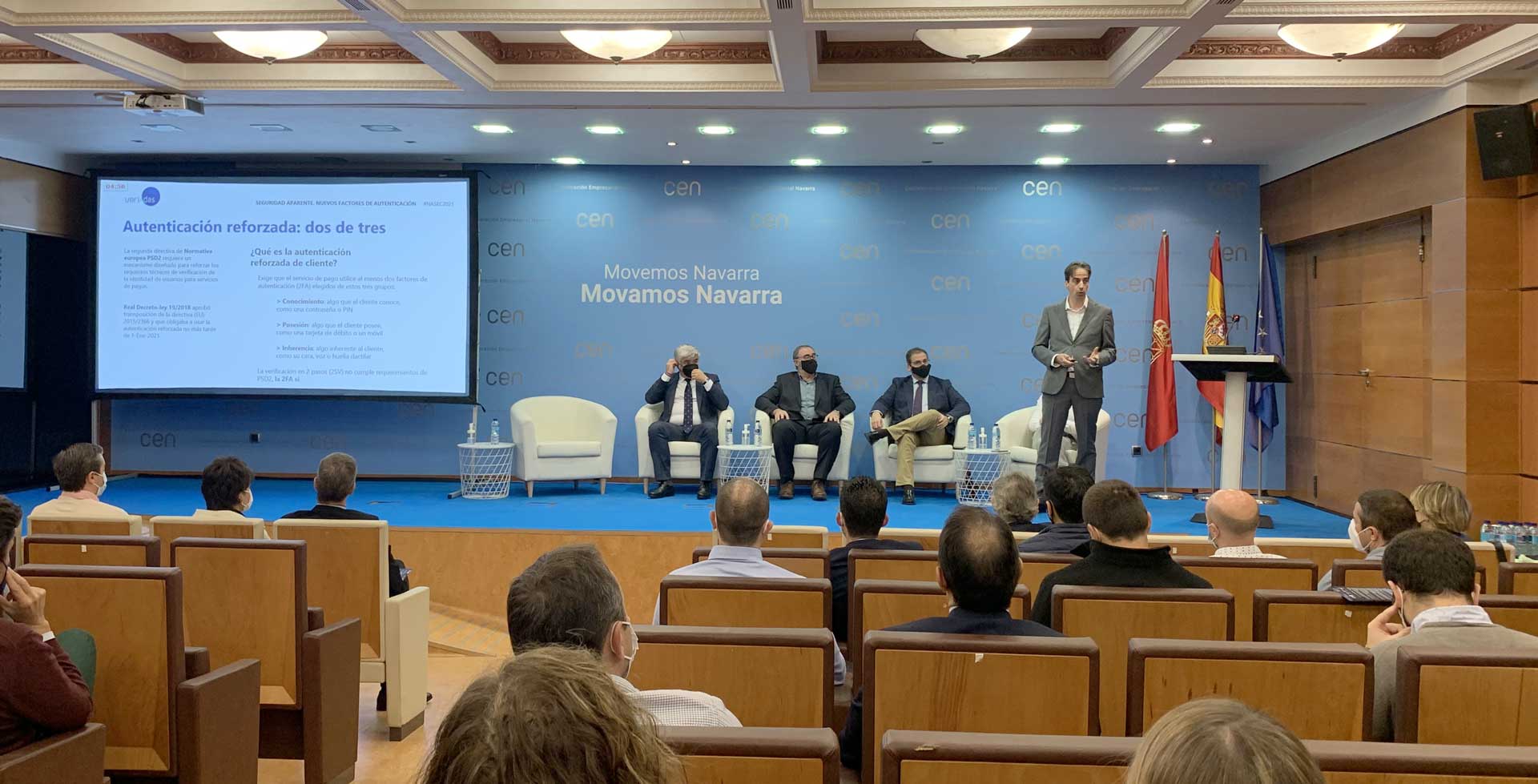 During his presentation, Gorka Sanchez, CISO & Operations Director of Veridas, concluded during his speech "Apparent security. New authentication factors" that "cybersecurity and security affect us all; as individuals and as companies".  Sánchez warned that the number of reported scams has grown by 40% compared to the previous year, "since we are interacting more and more digitally and this is the focus of criminals". Concluding that, therefore, the market "demands cybersecurity solutions that solve these problems." "It is not only security that interests our customers; biometric authentication also has to be convenient to use and with affordable costs: it is what we at Veridas call the magic triangle of Security, User Experience and Cost Optimization", he said.
For his part, the Councilor for University, Innovation and Digital Transformation of the Government of Navarra, Juan Cruz Cigudosa, stressed that "we must allocate resources and activate means to advance in this area".