To facilitate the integration of different technology solutions within its platform, Odigo, a global leader in Contact Center as a Service (CCaaS) solutions, has launched Odigo Connect, its marketplace designed to bring together the offerings of its technology partners and complementary solution providers, including Veridas.
Odigo Connect offers more than 40 innovative options for customers looking to enhance their Odigo solution. The company selects its partners based on several criteria: the added value they bring to customers, their reliability, and speed of implementation. Odigo's goal is to continue developing innovative use cases for its customers worldwide and thus enable its partners to access new markets.
The Veridas page on Odigo Connect contains information about voice biometric user authentication. Our solution, which identifies people by what makes them unique – their voice – offers customers a fast, seamless, and secure experience. As Odigo points out, companies such as Deutsche Telekom, Enel, BBVA, and Prosegur already rely on Veridas voice biometric technology.
Veridas voice biometrics is a European technology, 100% developed by the company, which has the highest GDPR compliance and is evaluated by NIST. While other competitors require up to 30 to 40 seconds to enroll and authenticate their users, Veridas requires only 3 seconds, recognizes any language, and does not require repetition of any phrases. Its accuracy level is over 99%, and it has a robust anti-spoofing system that detects whether the voices are authentic or pre-recorded.
In addition to the speed of user registration and authentication, does our voice biometrics have advantages over other competitors? Of course, it does. Veridas is the only company to be tested by NIST for facial verification (1:1), identification (1:N), and voice recognition. We work with more than 100 customers worldwide, and we operate on both Amazon Web Services and Azure and other IaaS providers.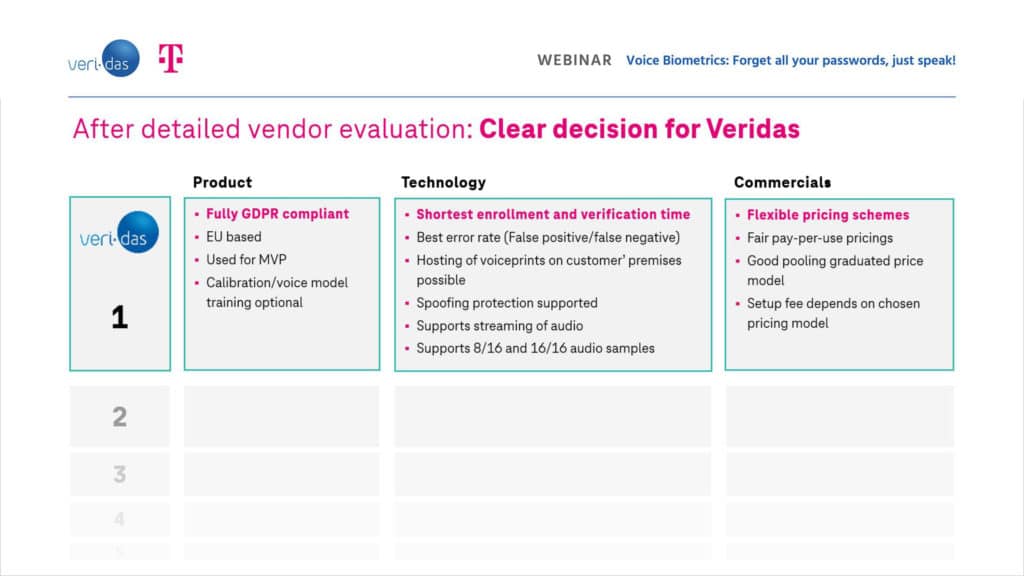 Odigo Connect mentions three clear benefits that the solution offers: fraud prevention, cost optimization, and improved user experience. Bernhard Hochsätter, Executive Product Manager at Deutsche Telekom, summarized in a few words why they chose Veridas as a single-source provider: "No other solution on the market provided us with the same quality of user experience, thanks to the minimal time required for registration and verification, while guaranteeing us such a high level of accuracy, with minimal error rates". 
Odigo is also featured on our Partners page. We list more than 30 companies that are part of our network and have added the best verification solution on the market to their product portfolio.