Kirolbet, a leading online bookmaker in northern Spain, was looking for a solution that would allow them to offer a responsible and secure online betting service.
For this, they have relied on Veridas and its digital onboarding, which has allowed them to increase the security of access to their services, avoiding underage gambling and cases of identity theft.
A secure, agile and intuitive biometric system for customer registration and access, which has improved the overall experience of its customers while helping Kirolbet to comply with the existing regulations in Spain in the gaming sector.
The challenge: To offer users a responsible and secure online gambling environment.
A cell phone and internet connection is all that is needed to gamble online.
The barrier to entry is so low that it facilitates access by minors and users who are not qualified for responsible use.
Kirolbet, a bookmaker committed to responsible gambling, was looking for a solution that would allow them to offer users a responsible, secure and compliant online betting environment.
The challenge was to include a more significant layer of security without compromising the user experience.
The solution: Veridas' digital onboarding solution
Kirolbet relied on Veridas and its digital onboarding since no other biometric solution provider met its requirements so thoroughly:
Anti-spoofing technology to prevent fraud cases.
Global document coverage of more than 400 documents.
Software as a Service accessible from the cloud
Full compliance with European and national regulations.
Adjustable and scalable rates according to process volume.
Thanks to Veridas, Kirolbet can verify the identity of its users in less than a minute, with maximum security and user experience.
A process that is carried out in 3 simple steps:
Verification of the user's identity document. The customer must

scan both sides of their identity document.

Once the images of the document (front and back) are extracted, they are processed in the cloud, where our document verification technology, through different operations such as OCR extraction, or verification of the authenticity of the material, determines whether it is a valid or fraudulent document.
Verify that the identity of the physical person corresponds to that of the scanned identity document. Through a

selfie

, our facial biometrics engine compares the photo on the ID document with the selfie taken during the process and determines if it is the same person.
Verify that the user performing the process is a real person. Finally, to confirm that it is not a fraud attempt, our anti-spoofing technology verifies that the user performing the process is a real person. The aforementioned is achieved through a proof of life, where the user is required to take a second selfie with a smile.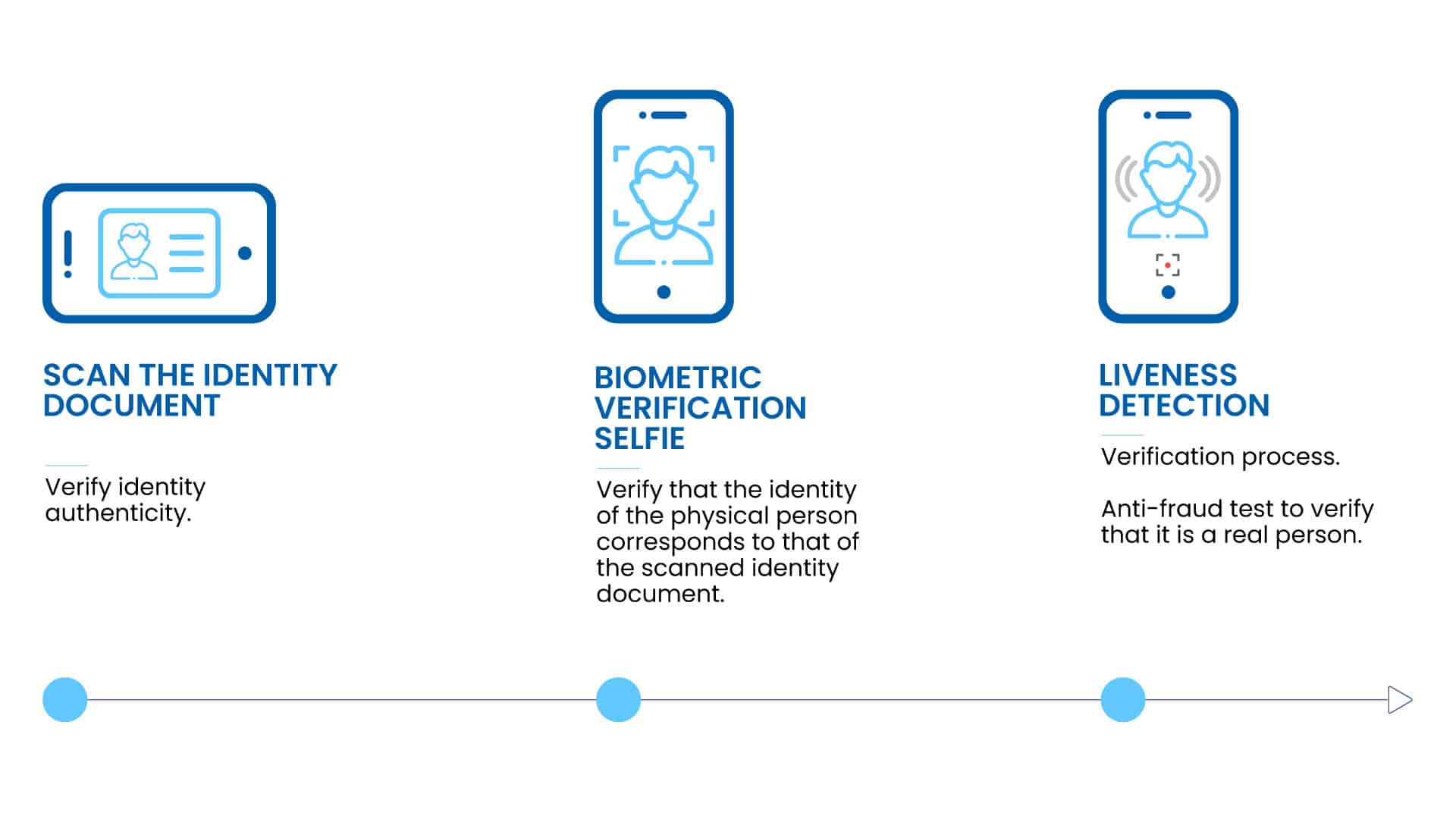 The results: a more secure relationship with its users.
Kirolbet has been relying on Veridas since June 2021. This has already enabled it to sign up nearly 7,500 new users securely. It has also achieved the following:
Increasing security in the online betting environment and preventing access by minors: With a

document validation funnel of 84%

in Spanish documents (DNI/INE), it is verified with maximum security that the document presented is valid and the person accessing the platform is of legal age. Detecting, among others, expired documents and attempts to register minors.
Detect cases of identity theft: with a

93% biometrics funnel and proof of life

, Kirolbet is able to detect if a user tries to register with another person's document.
Improved user experience: users trust Kirolbet as an online bookmaker that offers a responsible and secure online betting environment.
Shall we turn your story into success?
Fill in this form and get in touch with one of our experts.